Paintball Online is a pbem(played by e-mail) type web game. It lets you get in the battle field with other players from all over the world! We put you in a interface displaying the field your stats and more! Updated daily and you could even buy bigger and better weapons! Play in many situations including elimination, center flag, and many more. Virtual fields and maps of many differant variaties. Sighn Up now!!
::.::LATEST NEWS::.::

Uh oh! theres some bad news we have....the tournament has been delayed. Why? because no one was sighning up. Now its a very short form! not a long one like the ones that ask you for your name and stuff. Weve been trying also to let other people know about this site like partnering with other sites and adding this site to search engines. But we need your help also. Tell your friends or anything to help this site grow. If you have a web site we will be glad to partner with you. Now we didnt say that the tournament has ben canceled just delayed. Not a lot is going to happen to this site after a while beacause not a lot of ppl come to visit. (new people) Thanks again for all those people who did sighn-up.



::.::OTHER NEWS::.::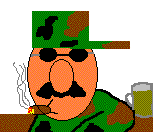 We now have a new mascot! Introducing "MARTEENI". He will be our new news announcer. If you have an idea for another mascot just e-mail us! ...speaking of pics and graphics we have just updated some battlefield pics...though you cannot see them yet becuase of the delay i hope you like them when enough ppl sighn-up to get the tournament going!
::.::NEW URL::.::
We have a new URL! Its shorter and better! PLUS it loads faster now and you can get rid of those nasty advertisments better. Its not a domain name but even shorter. Its a V3 URL.
You can still go to the original URL but you should go to the new URL also because its more conveniant.
.::.::MODIFIED::.::
Weve modified this site a lot! We dont have a shop anymore...but we still have some of the same things. Plz help us advertise this site...if you want to link to us plz click here. We might have to cancel the tournament because ppl have not been sighning up.....for those who did sighn-up thanks...now we might not have a lot of ppl in this tournament but weve just started this site so plz dont abandon your hopes.
::.::TOURNAMENT::.::
The paintball season has begun! And we are having a tournament...
sighn-up
!
now for it! If you wanto see the game dates in wich teams are gonna play click here! Have fun! If you dont know how to battle make sure to visit our
FAQ
.
We have a count down to the date in wich the RED TEAM VS BLUE TEAM.
::.::UPDATE::.::
You can now make your own teams! All you do is gather all your teamates first before you sighn-up your team because your teammates will be permanent . If you would like to sighn in your team plz click here. Your team will auotomatically added to "TEAM SEARCH" once you applied so other ppl can look up your team.
::.::GRAND OPENING::.::
Welcome to "PAINTBALL ONLINE"...we dont sell appliences...we are not a club...what we are is a gaming comunity! An online one that is. We bring you a paintball simulation game thatcan be played online with hundreds of ppl from all over the world.(well not hundreds yet but were hoping!) Now we dont have a super fast data base so we had to make this game be run by pbem(played by e-mail)....now i know that sounds kinda dumb but you still see your opponents your stats the map pics pics and more pics in the battle field...just make sure to visit it before you make any choices...and you have pics in e-mail to! Your team can gain points and be victorios! Are you ready?